Photo Gallery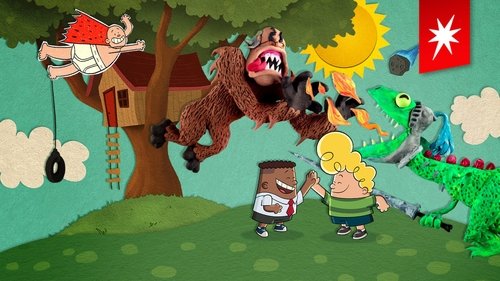 I found these new images from Captain Underpants Epic Choice-O-Rama on @todaysparent, Cinema Blend and Red Tricycle's websites. They also said that it will be airing on February 9, while the others know that it's going to come on February 11. We have to wait for the official release date from Dreamworks. Please correct me if I made a mistake. WHO'S HYPED FOR THE UPCOMING INTERACTIVE SPECIAL? @petey_haw_haw #CaptainUnderpants #DWCaptainUnderpants #George #GeorgeBeard #Harold #HaroldHutchins #DavPilkey #CaptainUnderpantsEpicChoiceORama
What if you're a character in your favorite cartoon? Do you have to think what you're going to do in the show? Well, think about it, because a brand new interactive episode is coming your way next month! Help George and Harold save their treehouse from Mr. Krupp in Captain Underpants Epic Choice-O-Rama, an upcoming interactive episode where you can choose several plot points all the way to the end and do it over again! It's coming on February 11 on Netflix! Oh my goodness, this would be an awesome birthday gift for me, because it will be held on February and I can't wait for that! Thanks Dreamworks and Dav Pilkey! @petey_haw_haw @dreamworks #CaptainUnderpants #DWCaptainUnderpants #CaptainUnderpantsEpicChoiceORama #George #GeorgeBeard #Harold #HaroldHutchins #GeorgeAndHarold #Fanart #DavPilkey #Dreamworks
Captain Underpants Epic Choice-O-Rama is COMING NEXT WEEK, and George and Harold takes you on different adventure of YOUR OWN CHOICE to save their treehouse! . . This fanart is based from the upcoming interactive episode where the boys goes to the future. What I really like is when the animators worked hard on different animated styles used in this episode. One of the best things is where they used the 3D animation here, and it reminds me of Captain Underpants: The First Epic Movie. . . Are you ready to help them using your decisions? Set your reminders because Captain Underpants Epic Choice-O-Rama premieres this February 11 only on Netflix! . . @petey_haw_haw @dreamworks #CaptainUnderpants #DWCaptainUnderpants #TheEpicTalesOfCaptainUnderpants #CaptainUnderpantsEpicChoiceORama #George #GeorgeBeard #Harold #HaroldHutchins #GeorgeAndHarold #Future #Fanart #DavPilkey #Netflix
Only one weeks before "Captain Underpants Epic Choice O Rama", also choose what Bob and Captain Underpants is to...? #minions #minionsmovie #bobtheminion #captainunderpants #theepictalesofcaptainunderpants #crossoverships #netflix
Remember the clip from Captain Underpants Epic Choice-O-Rama where Jessica gets surprised to the unknown girl next to her? That's Jennifer, and she's one of the new characters that will appear in the upcoming interactive special. She looks like Jessica, but she has a different har and dress. Maybe you'll encounter her when it comes this Tuesday, February 11 on Netflix! @petey_haw_haw @imtoddgrimes @dreamworks #CaptainUnderpants #DWCaptainUnderpants #CaptainUnderpantsEpicChoiceORama #Fanart #DavPilkey #Netflix #Jennifer
CAPTAIN UNDERPANTS EPIC CHOICE-O-RAMA IS COMING TOMORROW! If you're supa excited for the upcoming interactive episode on Netflix, we're happily going to see it, and I hope you will get a happy ending. . I have classes tomorrow at school, and I'm going to watch it when I get home. . By the way, I received lots of gifts from my BFF @miggy7215.pmgph and Ninang Amy yesterday. I'm very thankful to those birthday greetings I've read. You are all truly awesome! . . @petey_haw_haw @imtoddgrimes #CaptainUnderpants #DWCaptainUnderpants #TheEpicTalesOfCaptainUnderpants #CaptainUnderpantsEpicChoiceORama #Fanart #DavPilkey #Netflix
Captain Underpants: Epic Choice-o-rama: Trailers and Videos
The Epic Tales Of Captain Underpants 2K16 - All Flabby Flabulous Farts Scenes 2K16
Captain Underpants Hack A Ween Brazilian
One second of every the epic tales of captain underpants dreamworkstv
YTP - Captain Underpants Epic Choice o Rama Trailer
The Spooky Tale Of Captain Underpants Hack A Ween European Spanish
The Epic Tales Of Captain Underpants 'Epic Choice O Rama' Promo Trailer (2020) HD
Captain Underpants Reacts To The Boss Baby! - Part Two
Secret Underground Adventure | THE EPIC TALES OF CAPTAIN UNDERPANTS
Captain underpants choice o rama
Amulet 1 - 8
Red Tape Song: Captain Underpants
Owen's First Ski, 'Not Good Crash!'
Don't get near the robotboi from Captain underpants
The Reasons The Epic Tales of Captain Underpants is Underrated
Captain Underpants Singing DJ Drowsy Drawers
Captain Underpants obby!
Grants reads The Adventures of Captain Underpants Chapter 8
Captain underpants and the attack Chapter 4
Epic Choice O Rama Promo | THE EPIC TALES OF CAPTAIN UNDERPANTS
Jezivo captain underpants song (Netflix) season 3
Captain Underpants Full Theme Song Series Lyrics
Captain Underpants Hack A Ween Cantonese
My reaction that Trolls: The Beat Goes On got canceled one year ago at November 22nd
When was the last time you had a WEDGIE!? - Life with bear.
Hole in None | THE EPIC TALES OF CAPTAIN UNDERPANTS
The epic tales of captain underpants every trailer (including choice o Rama)
Captin Underpants - by Andrew
[Wattpad Fanfiction Soundtrack] 05. Set It All Free - Trolls: Trollstopia