Photo Gallery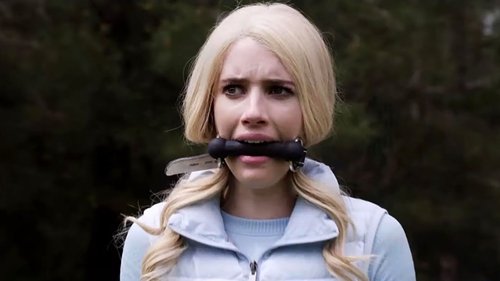 @thehunt_movie #premiere @arclightcinemas @hilaryswank #hilaryswank #arclight #hollywood @whatsuphwood @ikebarinholtz #whatsuphollywood #hollywoodnewswire #izumihasegawa
This movie surprised me in the best way possible. But before I get into that, let me clear out something: the political aspect for me was secondary. I thought this wasn't biased at all and they made fun of both sides. With that out of the way, I think this movie might be the 'Ready or Not' of last year. Trailer comes on, everyone has some kind of opinion and the movie completely blows you away. This is funny, gory and very very thrilling. Betty Gilpin is a badass in this, one can even compare her as Erin from You're Next. Hilary Swank is as usual amazing even in the small role she is in. The supporting cast is pretty decent as well. Without spoiling much, the first twenty minutes of this film is bat shit crazy and so so hilarious. I could not stop laughing even when people were getting killed. The gore is top notch. Go in expecting something light hearted. In fact, the writers wrote it in a way you can laugh at yourself. If you take it too seriously, you might get disappointed. The cinematography and the production design also work well. The costumes that all the characters wear is also well thought out. My only complain would be, from the beginning, they don't show Swank's face right away which was kinda pointless. None of the parts drag. The movie starts smack dab in the middle of the action so you're never bored. The music accompanies the action well. Overall I would definitely give #TheHunt a solid 8.5/10. This is a bloody fun time. I really hope every horror lover goes to see it in the theatre. #horror #review #film #slasher
Me as a kitten, studying the ways of my ancestors. #smartestcatintheworld #throwback #apexpredator
Such a fun night @ #thehuntpremier Remembered to snap a pic after the party but better late than never ❤️ #jobperks #blumhouse #redcarpetpremiere
The Hunt is not what you're expecting, at all. Way more a comedy/satire, it broadly skewers both sides of the aisle. The action is generic and gory, while the satirical elements are hit and miss, but oddly, together they form something rather satisfying @thehunt_movie #TheHunt #TheHuntmovie #TheHuntFilm #bettygilpin #damonlindelof @damonlindelof #ikebarinholtz @ikebarinholtz #film #films #movie #movies #cinema #hilaryswank @hilaryswank #satire #jasonblum #blumhouse @blumhouse @universalpictures #universalpictures #craigzobel @craigzobel #emmaroberts @emmaroberts #glennhowerton #ethansuplee @ethansuplee @glennhowerton #justinhartley @justinhartley #sturgillsimpson @sturgillsimpson #nickcuse #maconblair #universal
Early for the press screening of 🐷 Look for my review at the At Home in Hollywood website soon 🎬 #horrormovie #politicalsatire #blumhouse #watchoutbabe
"You better start running!" 🦌🔪 #TheHunt opens at select Omniplex Cinemas this Wednesday! Get showtimes at Omniplex.ie
Damon Lindelof confirms he's out on #Watchmen season 2 & talks about why HBO reclassified the show as a limited series! LINK TO FULL VIDEO IN BIO! #WatchmenHBO #DamonLindelof #TheHunt
My aim tho #callofdutymodernwarfare #callofdutyclips # #modernwarfareclips #modernwarfarememes #mcallofdutymemeodernwarfaregameplay #thehuntercallofthewild #twitch #twitchstreamer #xbox #xboxone #callofdutyteams #faze #spacestationgaming
THE HUNT They are all awake and ready to feed themselves . Do not be fooled by their beauty , they are hungry , they are thirsty , they are here to conquer your souls . The 2nd part from our latest Project : VAMP 🐈 All photos taken by @dimitristsakiris.photography Concept and style by @les_felines #lesfelines #lesfelinesart #vampcats #newproject #exoticpole #exoticpolecompany #poledance #poledancers #dancers #artphotogrphy
Just sow myself in opening scene on the episode of @huntersonprime did a dead scene first time doing that so excited I had so much fun made lots of cool friends @maiamayamy video coming in next post stay tuned . . . . #amazonprime #amazon #hunters #film #onset🎥🎬 #amazonprimeseries #actress #director #moviestar #hollywood #producer #filmmaker #filmmaking #fashion #videoproduction #camera #fun #billmurray #amazing #girl #marlonwayans #cinematography🎥 #trendy_tots #kidsmodel #nyc #model #fashion #talent #onset🎥🎬 #castingcall
The Hunt is really entertaining. But the reaction to The Hunt on social media may be even more entertaining than the film itself. #TheHuntMovie #TheHunt
Colorscript I did last year for my graduation movie The HUNT ✨ It was the first time I was doing a colorscript and I was really happy with the results. My art direction wasn't that clear at this moment for the movie and this colorscript helped me A LOT to figure out wich kind of atmosphere I wanted to bring to the story ! You can still watch my short animated movie with the link in my bio !! Thank you also for all you kind and very supportive feedbacks about the movie, I really appreciate ! You're the best, bisous ❤️ #animation #animatedshortmovie #animatedshort #colorscript #colorkey #colorkeys #movie #graduationfilm #graduationmovie #myart #drawings #illustration #visualdevelopment #visdev #2danimations #2danimation #greekmyth #greekmythology #acteon #project #projects #artschool
Habitat Estate Sales will be in Laguna This weekend! This fabulous Tibetan bench will be available at our sale this weekend! Stay tuned for details. #estate #esatesale #estatesales #estatesalefinds #coolfinds #fabulousfinds #oneofakind #curated #tibetian #oneofakind #collectors #lagunabeach #NewportBeach #coronadelmar #danapoint #sanclemente #costamesa #orangecounty #habitatestatesales #habitatconsignanddesign
@thehunt_movie #premiere @arclightcinemas @hilaryswank #hilaryswank #arclight #hollywood @ikebarinholtz #whatsuphollywood #hollywoodnewswire #izumihasegawa
Hope is the only thing stronger than fear... #photography #gopro #goproin #goproindia #theuncommonbox #maibhisadakchap #shilloutephotography #instagram #instagood #instadaily #pictureoftheday #colorful @goproindia @theuncommonbox @photographers_of_india @photographers.of.india
Go see our boy in The Hunt this weekend! Posted @withregram • @aaronjayrome Had a blast with @thedeanwest at @thehunt_movie premiere last night. GO SEE THIS MOVIE. It plays so beautifully to the current state of the country and how ridiculous it all is. So proud of the best friend, his role is hi-f***ing-larious. • • • @blumhouse @nbcuniversal #theHunt #horror #premiere #actor #blumhouse #thedeanwest
#TheHunt review is up. Just click the link in my bio
#THEHUNT . LINK IS IN THE BIO #movies #films #director #producer #screenwriter #filmmaking #filmmaker #moviereview #moviereviews #marchioreviews #movieaficionado #cast #crew #actor #actors #youtube #webshow #reviews #movieshow #tvshow #shows #guns #gunsofinstagram #blumhouse #blumhouseproductions #themostdangerousgame #survivingthegame
Did I ever tell you I'm a scary movie fanatic????..... but can never find anyone to go with me #fridaythe13th ••••••••••••Friday the 13th Grab & Go for The Spot VIP #customerappreciationday
#TheHunt, Craig Zobel's fun but uneven MAGA satire, mocks both "deplorables" and "elites" and aspires to be the movie that America needs right now. Our critic calls it "a giddy slaughterhouse of mirrors" – read IndieWire's review of the film at the link in our bio.⁠ ––⁠ #bettygilpin #craigzobel
Cinder x midge female. 7 weeks. . . . . #puppylove #puppy #puppies #puppytime #vizsla #vizslas #vizslafamily #babygirl #huntress #thehuntress #dog #dogs #colorado #coloradohunting #huntingdog #huntingdogs #thrillofthehunt #bayfieldcolorado #durangocolorado #pagosasprings #dawg #pointer #pointerdogs #dogsthatpoint #huntclub #dogtraining #dogtrainer #huntingtraining #huntingdogtraining
There's no place like Manor House. #TheHunt is in cinemas NOW! @universalpicturesuk @universalpictures @thehunt_movie #ShowbizReport #MarvinNolasco #Pinoy #EntertainmentNews #Entertainment #News #Interview #Screening #Hollywood #International #Showbiz #Film #TV #Digital #Movie #Cinema #SocialMedia #Social #Blog #Blogger #Vlog #Vlogger #Interviewer #Influencer
Saturday March 14th 2020 Marcus B Caribbean Comedy Series (Show and Dance) Featuring Jay Martin ( @jaymartincomic )and Chris Spencer ( @therealchrisspencer ) Doors Open 7pm- Showtime 8pm General Adm $50 | Reserved Seating $60 For Tickets & Info 310.922.4005 | Marcusbcomedy.eventbrite.com Ticket Outlets Hungry Joe 310.674.9510, Little Belize 310.674.0696, Stones 323.751.5526 Marriott Hotel LAX 5855 W. Century Blvd LA 90045 #comedy #caribbean #comedian #standupcomedy #nightlife #nightout #music #dance #laughter #laughs #jokes #marriott @marcusbgt #tbt #throwbackthursday #everyoneschild
Here is my non-spoiler review for The Hunt. http://sknr.net/2020/03/11/the-hunt-2/ #thehunt
This weeks reviews... It's slim pickings at the minute, the whole first half of the year is pretty rough to be honest 😅 Not expecting much from either but I like a good surprise so 🤷🏻‍♂️ #moviereview #movie #movies #movienews #themoviebreakdown #bloodshot #bloodshotmovie #vindiesel #thehuntmovie #bettygilpin
Controversial Satire Film 'The Hunt' Finally Premieres in Theaters March 13⠀ ⠀ Criticized by news outlets and the president for its violence and political themes, The Hunt was due to hit theaters last September but will now arrive on March 13.⠀ https://buff.ly/338PKM2⠀ ⠀ #conservative #Film #gunviolence #HilarySwank #Hollywood #JasonBlum #Liberal #Movie #Satire #TheHunt #Trump
I had to sign an embargo before seeing #TheHunt. Well, there's a reason for that! Temporal moments of fun were there but this is ultimately a film that thinks it's way smarter than it actually is! My review of The Hunt (2020) on @letterboxd: letterboxd.com/neilsedgewick #film #cinema #filmreview #hilaryswank #blumhouse #bettygilpin #belfast #belfastblogger #niblogger #filmblog #instablog #instablogger
Movies that changed me. . I've seen this in a few places so I thought I'd do my own. Some of these, I can't really articulate how they changed me but I know they did. All of these films taught me a lesson of some kind, mostly changing the way I thought about movies, but sometimes life as well. . 2001 and Citizen Kane were the first films that proves to me movies are more than just entertainment, they are art. Star Wars gave me my love of science fiction. Possession, Mother!, and A Clockwork Orange showed me a different kind of horror that doesn't leave. The Hunt made me think differently about the world. Pieta showed me that brutality is not about violence and gore. Stalker taught me that you don't have to understand something to appreciate it. And Stay showed me that the end is the most important part of a story.
Just wait for it #callofdutymodernwarfare #callofdutyclips # #modernwarfareclips #modernwarfarememes #mcallofdutymemeodernwarfaregameplay #thehuntercallofthewild #twitch #twitchstreamer #xbox #xboxone #callofdutyteams #faze #spacestationgaming #warzone #callofdutywarzone #modernwarfarewarzonegameplay
Just watched gonna review on @filmpocalypsepod #filmpocalypse #bettygilpin is not to be fucked with! #ilovemovies #badasscinema #moviereviews
#movies #movie #moviereview #politics #america #linkinbio👆
Just finished watching The Hunt holy shit this movie is fucking badass y'all need to watch it non stop action I give this film 9/10 #thehunt
The Hunt - Review 2020 Surprisingly really good. Firing on all cylinders, it has action, humor, and a creative story to go with it all. This takes a concept that has been done before in variations, example The Purge, and makes it original and standout. The ensemble cast is great. Shout out to Betty Gilpin who rules in this movie! She's a fearless badass, absolutely look forward to seeing her in future projects. I can happily say, it's worth seeing. #TheHunt #TheHuntMovie #BettyGilpin #HilarySwank #EthanSuplee #EmmaRoberts #IkeBarinholtz #CraigZobel #JasonBlum #BlumhouseProductions #WhiteRabbit #UniversalPictures #MarcusTheatres #marcusvalleygrandcinema
Now that I've located my thunder chickens... 4 weeks until opening day. Practiced calling out at this this place last weekend but got nothing. Any tips??? . . . . . #hunting #hunt #trailcam #deer #whitetaildeer #outdoors #browning #deerhunting #whitetail #bowhunting #huntingseason #nature #racoons #huntinglife #huntingphoto #archery #wildlifephoto #wild #trailcamera #whitetail #coyotes #coyotehunting #thunderchicken
Sup Guys Just Got Done Seeing The Hunt Way Better Than The Hunger Games In My Opinion Plus They Have a Pig in This Movie. #thehuntmovie
Let the hunt begin in cinemas now!
Getting back on it finally! New review for The Hunt coming tonight!!! . . #comics #records #videogames #gamer #retro #vintage #resale #smallbusiness #localcomicshop #localrecordstore #movies #punkrock #horror #horrormovies #punkvinyl #thehuntmovie #moviereview #youtube
The Hunt. Betty Gilpin and Hillary Swank hold us captive in this Blumhouse produced satire of society. Many references to Animal Farm, combined with references to NPR and Hannity plus gory action= a way to forget about the uncertainty that this month is bringing. #Melbournereviewsit #Moviereviews #thehunt#bettygilpin#Hillaryswank
Yes. We know. CV19, but.....'Merica! And I honestly didn't think anyone else would be here. @damondfudge @skippyfantastic #filmjunkie #cinemanerd #moviegeek #horrorfilms #merica #movies #instamovies #instafilm #jordancreek #blumhouse #blumhouseproductions #wevegotmoviesign
Christine? #christineandthequeens #dragrace #candyman trailer ooh #antlersmovie trailer ooh movie Went to the store to see if people were going bonkers. Everyone was chill but shelves were considerably barer.
The Reel Rush - Thursday Night Triple Feature Premiere Edition - "The Hunt" FINALLY!! Been anticipating this shit for damn near a year!! Too much truth within, perhaps? #TheReelRush #TheHunt #TheHuntMovie #BettyGilpin #IkeBarinholtz #EmmaRoberts #HilarySwank #JustinHartley #GlennHowerton #CraigZobel #UniversalPictures #Blumhouse #RichardConnell #RegalCinemas #RegalManassas14 #IStillCallItHoyts #movies #moviebuff #moviebuffs #movielovers #film #filmlovers #cinema #cinemalovers #openingweekend #openingnight #ThursdayNightAtTheMovies #ThursdayNightPremiere #newrelease #SuperMovieBuffCrew
- Swipe for review.
This was awesome! 👏
The Hunt: Trailers and Videos
T-REX,I-REX,INDORAPTOR THE HUNT VELOCIRAPTOR,NIGERSAURUS,HOMALOCEPHALE \u0026 DRYOSAURUS - JURASSIC PARK
The Hunt | Official Trailer #1 - REACTION!!!
Hunt Showdown should have your attention
The Hunt – International Trailer (Universal Pictures) HD
The Hunt – International Trailer (Universal Pictures) HD
The Hunt Trailer #1 (2020) | Movieclips Trailers
AV: The Hunt - Teaser No.1 (08.03.2020)
Why The Hunt Is Finally Being Released with a New Marketing Campaign
THE HUNT Trailer 2 (2020)
'The Hunt' Film Is Released After Being Shelved for Violence
HOME OF THE RAVEN | THE HUNT EP 2
FEAR THE DEEP | THE HUNT EP 3
The Hunt REVIEW
The Hunt MOVIE REVIEW (2020)
The Hunt - Review - Is it Deplorable?
The Hunt Movie Review
The Hunt - Movie Review
THE HUNT MOVIE REVIEW 2020 | Double Toasted
Top 10 Reasons Why The Hunt is Dividing EVERYONE
The Hunt - Movie Review
THE HUNT | Trailer A | In Cinemas 16 April
The Hunt 2020 Ending Explained
THE HUNT Official Trailer 2 (NEW 2020) Thriller, Horror Movie HD
The Hunt (full movie) 2020
The Hunt - Review
The Hunt – International Trailer (Universal Pictures) HD
The Hunt - Review