Photo Gallery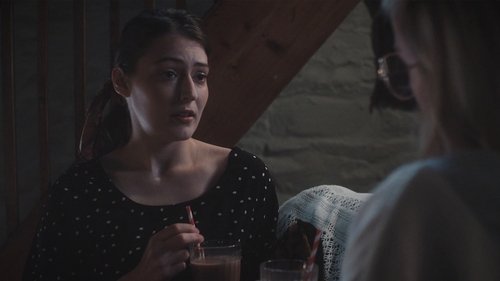 Just when we thought this film couldn't get any more offensive, they put a fucking photoshopped demon clown on the cover of the DVD! A lot of fucked up things were seen at Jonestown - demon clowns were not among them. Join TRUE CRIME MOVIE CLUB for our latest episode where we review one of the cheesiest and most offensively gross movies we've seen in years - 2020's THE JONESTOWN HAUNTING! #truecrimemovieclub #jimjones #dontdrinkthekoolaid #truecrime #truecrimepodcast #truecrimemovie #truecrimecommunity #comedypodcast #exploitationmovie #bmovie #directtovideo #moviereview #moviereviewpodcast #trash #jonestownmassacre #flavoraid #masssuicide #suicidecult #deathcult #cultkilling #peoplestemple #jonestowncult #reverendjimjones #jimjonescult #paranormal #paranormalmovie #podcast1289
Holy fucking shit, it gets even worse... Remember the demon clown from the front cover of THE JONESTOWN HAUNTING? Well, get a load of the burlap scarecrow monster wearing a hoodie on the back cover. Jesus Christ, it's bad enough that we have to tell you all that no hoodie-wearing burlap scarecrow monsters were seen at Jonestown, but this abomination doesn't even appear in the movie. This is a new low, movie clubbers. Join TRUE CRIME MOVIE CLUB for our latest episode where we review one of the cheesiest and most offensively gross movies we've seen in years - 2020's THE JONESTOWN HAUNTING! #truecrimemovieclub #jimjones #dontdrinkthekoolaid #truecrime #truecrimepodcast #truecrimemovie #truecrimecommunity #comedypodcast #exploitationmovie #bmovie #directtovideo #moviereview #moviereviewpodcast #trash #jonestownmassacre #flavoraid #masssuicide #suicidecult #deathcult #cultkilling #peoplestemple #jonestowncult #reverendjimjones #jimjonescult #paranormal #paranormalmovie #podcast1289
3.5/10 ⭐⭐ (2020) 👎 This 85 minute, more crime drama than horror is a fictional and unusual narrative stemming from the true story of the mass suicide cult led by Jim Jones back in the late 70's. Starts off slow and doesn't improve. #thejonestownhauntingmovie @thenoshitmoviecritic #movies #videos #thenoshitmoviecritic #movie #film #films #moviecritic #whattowatch #movierecommendations #moviereview #dvd #moviereviews #instamovies #watchlist #moviestars #critic #hollywood #filmcritic #netflix #flick #flicks #instaflick #instaflicks #goodmovies #mustsee #newrelease #bluray #newmovies
One of our latest from the low budget slate, 'The Jonestown Haunting' is set for release in 2020. Don't forget that you can join our FREE broadcast newsletter and invest in each of our movies... Get in touch now! Simply send your name and email in a DM. (You can unsubscribe at any time.) . . . . #lowbudget #horror #free #newsletter #posteritypictures #subscribe #broadcast #investing #invest #opportunity #production #haunting #productioncompany #wealth #investwithus #getintouch #instagood #like #follow #profit
Calling The Jonestown Haunting a horror film is stretching the term to the breaking point. https://www.voicesfromthebalcony.com/2020/04/22/review-the-jonestown-haunting-2020/ #VoicesFromTheBalcony #horrormovies #indiefilm #indiehorror #horrorfam #horrorfamily #horrorfan #horrorfanatic #horrormovies #horrorjunkie #horroraddict #horrorgeek #horrornerd #instahorror #instamovie #instareview #ighorror #movienight #thriller #sciencefiction #actionmovie #martialartsmovies #western
4Digital Media Will Release "The Jonestown Haunting" On DVD This April https://asouthernlifeinscandaloustimes.blogspot.com/2020/02/4digital-media-will-release-jonestown.html #horrormovies #supernatural #movienews #releasedetails #thejonestownhaunting
The DVD art for THE JONESTOWN HAUNTING features Jim Jones holding an armful of skulls, taken from a pile skulls belonging to the victims of a mass suicide........that he died in. Someone got paid to make this. All hope is lost. Join TRUE CRIME MOVIE CLUB as we review one of the cheesiest and most offensively gross movies we've seen in years - 2020's THE JONESTOWN HAUNTING! #truecrimemovieclub #jimjones #dontdrinkthekoolaid #truecrime #truecrimepodcast #truecrimemovie #truecrimecommunity #comedypodcast #exploitationmovie #bmovie #directtovideo #moviereview #moviereviewpodcast #trash #jonestownmassacre #flavoraid #masssuicide #suicidecult #deathcult #cultkilling #peoplestemple #jonestowncult #reverendjimjones #jimjonescult #paranormal #paranormalmovie #podcast1289
The DVD art for THE JONESTOWN HAUNTING features Jim Jones holding an armful of skulls, taken from a pile skulls belonging to the victims of a mass suicide........that he died in. Someone got paid to make this. All hope is lost. Join our sister show TRUE CRIME MOVIE CLUB as they review one of the cheesiest and most offensively gross movies they've seen in years - 2020's THE JONESTOWN HAUNTING! #truecrimemovieclub #jimjones #dontdrinkthekoolaid #truecrime #truecrimepodcast #truecrimemovie #truecrimecommunity #comedypodcast #exploitationmovie #bmovie #directtovideo #moviereview #moviereviewpodcast #trash #jonestownmassacre #flavoraid #masssuicide #suicidecult #deathcult #cultkilling #peoplestemple #jonestowncult #reverendjimjones #jimjonescult #paranormal #paranormalmovie #podcast1289
Calling The Jonestown Haunting a horror film is stretching the term to the breaking point. https://www.voicesfromthebalcony.com/2020/04/22/review-the-jonestown-haunting-2020/ #VoicesFromTheBalcony #horrormovies #indiefilm #indiehorror #horrorfam #horrorfamily #horrorfan #horrorfanatic #horrormovies #horrorjunkie #horroraddict #horrorgeek #horrornerd #instahorror #instamovie #instareview #ighorror #movienight #thriller #sciencefiction #actionmovie #martialartsmovies #western
Just when we thought this film couldn't get any more offensive, they put a fucking photoshopped demon clown on the cover of the DVD! A lot of fucked up things were seen at Jonestown - demon clowns were not among them. Join our sister show TRUE CRIME MOVIE CLUB for their latest episode where they review one of the cheesiest and most offensively gross movies we've seen in years - 2020's THE JONESTOWN HAUNTING! #truecrimemovieclub #jimjones #dontdrinkthekoolaid #truecrime #truecrimepodcast #truecrimemovie #truecrimecommunity #comedypodcast #exploitationmovie #bmovie #directtovideo #moviereview #moviereviewpodcast #trash #jonestownmassacre #flavoraid #masssuicide #suicidecult #deathcult #cultkilling #peoplestemple #jonestowncult #reverendjimjones #jimjonescult #paranormal #paranormalmovie #podcast1289
Holy fucking shit, it gets even worse... Remember the demon clown from the front cover of THE JONESTOWN HAUNTING? Well, get a load of the burlap scarecrow monster wearing a hoodie on the back cover. Jesus Christ, it's bad enough that we have to tell you all that no hoodie-wearing burlap scarecrow monsters were seen at Jonestown, but this abomination doesn't even appear in the movie. This is a new low, movie clubbers. Join our sister show TRUE CRIME MOVIE CLUB for our latest episode where we review one of the cheesiest and most offensively gross movies we've seen in years - 2020's THE JONESTOWN HAUNTING! #truecrimemovieclub #jimjones #dontdrinkthekoolaid #truecrime #truecrimepodcast #truecrimemovie #truecrimecommunity #comedypodcast #exploitationmovie #bmovie #directtovideo #moviereview #moviereviewpodcast #trash #jonestownmassacre #flavoraid #masssuicide #suicidecult #deathcult #cultkilling #peoplestemple #jonestowncult #reverendjimjones #jimjonescult #paranormal #paranormalmovie #podcast1289
These two independent horror films showed up for review today from 4 Digital Media!!!! #moviereviewer #todayshaul #dvdcollector #moviecollector #independenthorror #independentfilm #independent #lowbudgetfilm #directtovideo #horror #killerclown #clownhorror #jimjones #jonestown #4digital #4digitalmedia #thejackinthebox #thejackintheboxmovie #jackinthebox #jackintheboxmovie #lawrencefowler #andrewjones #ethantaylor #robertnairne #williammeredith #tiffanyceri #revjimjones #truecrime
The Jonestown Haunting: Trailers and Videos
The haunted trailer movie 2020
Nahko and Medicine for the People - What's In My Bag?
THE JONESTOWN HAUNTING OFFICIALL TRAILER 2020 | ПРИЗРАК ДЖОНСТАУНА ОФИЦИАЛЬНЫЙ &#105
Stephen King's Salem's Lot - The Cinema Snob
DELPHI CASE - EPISODE 3: TIMELINE (MINDSHOCK TRUE CRIME PODCAST)
JONESTOWN MASSACRE | linangstories | Tagalog
Corona Zombies 2: Barbie \u0026 Kendra Save the Tiger King - The Cinema Snob
OCCVLT - JAMESTOWN KOOLAID FT. RAEKOGG
Hansel \u0026 Gretel: Witch Hunters (2013) | It's not that bad! Review
The Jonestown Haunting Full Movie HD 2020 | Best Horror Movie In 2020 | English
The Jonestown Haunting Trailer
Wicked Ones Official Trailer (2020)
best horror movie you must watch !!
The Whispering Man - Movie Review
The Jonestown Haunting | 6 Minutes Preview | 2020 | SFYT James
United Hates of America 2020 (feat. DeStani) (Radio)
Coven of Evil
HOW DID JONESTOWN HAPPEN? | MIDWEEK MYSTERY
4K THE BLACKOUT trailer 2020 must watch!!!
The Ashcroft Entity Official Trailer
EYE OF THE DESTROYER - CYCLE OF ABUSE [OFFICIAL MUSIC VIDEO] (2020) SW EXCLUSIVE
New Release Hunted Movie Official Trailer(2020),Horror Movie
【五大 】5個 令人毛骨悚然的鬼域 死城, Top 5 Scary Ghost Towns in The World- 三爺奶奶頻道
Joker | Arthur's preparation for Murray's Show | 2019 Movie | Clip | SFYT James
OUIJA SHARK | Summoning the Spirit of the Shark | Movie clip | 2020 | SFYT James
'YEAH YOU' from WICKED ONES 2020 (Official Motion Picture)
GORED - SUFFERING REMAINS [SINGLE] (2020) SW EXCLUSIVE
Better Call Saul - 4x2 Breathe - Group Reaction