יונתן אגסי הציל את חיי Photo Gallery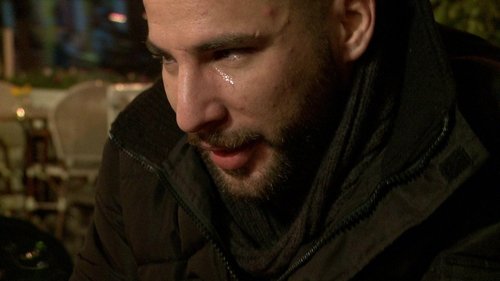 In less than an hour, @jonathanagassi4ever will be welcoming you @ Sapienția. The screening of "Jonathan Agassi saved my life" is scheduled for today, June 7th @ 5:30 PM. A Q&A session will follow the screening. #TIFF2019 #18isTIFF #TIFFmoments #peopleofTIFF #JonathanAgassi #JonathanAgassiSavedMyLife
Am at @newfest with my magical filmmaker crew of @heymanntomer322___________ & @blueboyny about to see Tomer's new film @jonathanagassisavedmylife at his NYC premiere!! #newfest #fimpremiere #nyc #independent #indie #tomerheymann #jonathanagassi #akronthefilm #movies #pornstar #documentary #yalla #israeli #filmmaker #gratitude #premiere #gay #gaycinema
About last night - interpretare dramatică #tiffclosingparty #transilvaniafilmfestival #friends #partylikearockstar #gala #matchingoutfits #cocktaildress
Just after an interview (and before a great afternoon party starts) with gay pornostar legend Jonathan Agassi @tiffromania . #jonathanagassi #tiffromania #cluj #filminterviews
Get outta my way, me and my pigeon friends have a movie to see! Ok, several movies.. 🙃
DOC EDGE FILM FESTIVAL AUCKLAND, NZ -thanks for having me and the film .was storng screening with great audience.
Jonathan Agassi Saved My Life, 2018 - the film, which struck me with its honesty and frankness in everything.❤️🎞
Tomer Haymann's JONATHAN AGASSI SAVED MY LIFE plays @irisprize Thursday 10th October 9pm @cineworld Cardiff A powerful, uncompromising portrait of a young man wrestling with adoration, loneliness, addiction and childhood traumas. The documentary follows Agassi's rise to becoming one of the world's most popular adult entertainers. However, the professional highs are distinctly different from the crushing personal lows of the man himself. The latest award-winning feature from the director of Who's Gonna Love Me Now? #jonathanagassi #lgbtq #irisprize #irisprizefestival #lgbtqfilm #lgbtqfilmfestival #thequeerreview
Filmy w konkursie 2019: / Official selection 2019: Jonathan Agassi uratował mi życie/Jonathan Agassi Saved My Life, reż. / dir. @heymanntomer322___________ #JewishMotifsIFF #jewishmotifs #JewishMotifs2019 #15JewishMotifs #film #Jewishfilm #filmfestival #tomerheymann @jonathanagassi4ever jonathanagassi
#jonathanaggasi, #menofisrael. You must see the documentry #jonathanagassisavedmylife 📷 @ronenakerman #man #men #summer #gaymen #gaypride #gayporstar #gayporn #sexy #sexymen #star #celebrity #models #model #malemodel
#movie #newfest #lgbtq #israeli #cinema #jonathanagassi #tomerheymann #documentary #nyc
Very happy that I had the opportunity to meet this handsome, nice and friendly person. @jonathanagassi4ever Toda raba for your film and for being among us in Cluj at TIFF #jonathanagassi #tiff #tiff2019 #tiff18 #cluj #romania #jonathanagassi4ever #peopleoftiff #beard #hotguy
"Jonathan Agassi saved my life " reaction to the movie in Mexico. תגובות לסרט "יונתן אגסי הציל את חיי " במקסיקו #JonathanAgassisavedmylife #monterreyinternationalfilmfestival
Following a porn star over eight years of his life, documentary Jonathan Agassi Saved My Life 🇩🇪 is out in the UK on 18th November, released by @peccapics. Charting his slow decline as his life falls apart around him, this is a remarkable film and documentary filmmaking at its finest. It gets a full ⭐️⭐️⭐️⭐️⭐️ from me! Head to the main site for my full review. Link in bio. #jonathanagassi #pecca #peccadillo #peccapics #peccadillopictures #peccadillostudios #lgbt #lgbtfilm #queercinema #thepinklens #instafollow #instadaily #instagay #gaylove #gay #instalgbt #instalgbtq #instapride #instafilm #gayrights #gaypride #loveislove #gaylife #pride #instapride
Join us on Sunday for JONATHAN AGASSI SAVED MY LIFE 🌈 This electric documentary follows Agassi's wild life and his struggle with a double identity of doting son and worldwide porn star sensation ✨ Link in bio for tickets and info 🏳️‍🌈 #rainbowfilm #lgbtq🌈
This Guy from Guatemala who come to Barcelona to see our film "Jonathan Agassi saved my life " - #JonathanAgassisavedmylife #filmotecadecatalunya
Jonathan Agassi saved my life #JonathanAgassisavedmylife
Cinema time - "Jonathan Agassi saved my life". - Extremely well done, truthful and honest. Challenging! Why? It's a bit too close to home 😱 - I admire Jonathan and his family for their honesty and bravery in sowing the world such a challenging story❤️ - I can't help asking, "what is the movie actually about?" Loneliness, love, family, mental health, acting, life, porn, sex, addiction, substance misuse, sexuality, attention, support, rejection, acceptance...maybe a bit of all! - Unfortunately when it comes to it, Jonathan's story is far from unique and I hope this movie will help us all protect others from going through similar challenges and pain🌈 - Jonathan Agassi, one of the world's most successful gay porn stars, splits his time between Berlin and Israel. Agassi built his fame and success on what is considered a global taboo, but in fact pleases millions. A rare and intimate look at the world of porn and escorting, as well as on a unique relationship between a mother and son, who courageously redefine familiar family concepts. This is a film about a lonely person who seeks love and meaning, but is condemned to a destructive lifestyle, understanding that the extreme fantasies he chases are not necessarily his own - - - - #cinema #picturehouse #picturehousecentral #documentary #jonathanagassi #tomerhaymann #israel #telaviv #berlin #porn #pornstar #gay #lgbt #acting #performer #sex #drugs #addiction #mentalhealth #love #family #support #love #loneliness #rejection #acceptance
one more screening in auckland-later welington-#jonathanagassisavedmylife #docedgefilmfestival #newzealand #יונתןאגסיהצילאתחיי #יונתןאגסי
Yesterday I saw the screening of @jonathanagassisavedmylife. What an intimate and emotional journey! This movie takes your breath away. It shows you a Jonathan that was the best at being totally naked... but also a 100% vulnerable Jonathan. It's a movie that talks about love before it does about sex... it's a movie that reveals the "uncool" part of taking drugs... and it shows that true friendship can save someone's life. @heymanntomer322___________ , you are a great movie director, but an even greater friend. This movie was shot for 10 intense years. From the glorious moment when Yonatan received "The Best Gay Porn Star in the US" Award... till the moment he lost it all. Until I saw that movie, I was a strong believer that my mother was the best mother on earth. Now I think there might be a small group of best mothers out there. Anna Langer, THANK YOU for teaching the Romanian public such in incredible lesson about UNCONDITIONAL LOVE. @jonathanagassi4ever, THANK YOU for sharing your story with us and for allowing us to learn from your mistakes. If you didn't see the movie yet, you should. #JonathanAgassi #JonathanAgassiSavedMyLife
Jonathan Agassi changed my life. 👏💚 . . . . @jonathanagassi4ever #israelimovie #lifechange
Jonathan Agassi saved my life, by Tomer Heamann Friday, November 15 19:30 at zpațiu One of the most successful gay porn stars is ready to share with the viewers a part of his life. He spends time in Berlin, but also in Israel with his mother. Jonathan has built his life and fame on the basis of a, as is considered in the world, Taboo, but it actually brings pleasure to millions. Through the film, you will discover his intimate exposure about his life, but also about his relationship with his mother, which is the concept of family. Followed by a Q&A with the Mother of Jonathan Agassi and a film member.
A marvelous man . #jonathanagassisavedmylife #jonathanagassi
Jonathan Agassi Saved My Life Cumming Soon #thirstday
🖤 @jonathanagassi4ever
🔞 Emotional, sexy and hard-hitting ride with a world-famous gay porn star. 🔞 . . Jonathan Agassi says he has the best job in the world and claims it has actually saved his life, but it's apparent he's not particularly happy. Haunted by boyhood traumas, Jonathan's relationship with his largely absent father is problematic. With his mother, the bond is loving but complicated. . . Tomer Heymann documented all Jonathan's activities over a period of time. The director's style will be familiar to regular festival goers, who may recall his I Shot My Love and Filipino drag queens film Paper Dolls from previous editions of Doc Edge. . . Q&A sessions with Director Tomer Heymann will be held after Auckland screenings! Find out more and grab your tickets here: https://docedge.nz/film/jonathan-agassi-saved-my-life/ ✨ . . #docedge #docedgeforum #docedge2019 #industryforum #aucklandfilmfestival #docedgepitch #love #documentary #gay #jonathanagassi #instagram #festival
Director Tomer Heymann gave a remarkable Q&A session in the wake of the screening of his documentary #JonathanAgassiSavedMyLife in competition in 2019 @docedgefest ! From his surprising first meeting with his character Jonathan Agassi to the feedback of his character after he saw the finished film, Director Tomer Heymann definitely inspired the audience! @docedgefest proves to be a great opportunity to get closer to kind, talented, accessible filmmakers such as @heymanntomer322___________ ! Congratulations!! 🤗😍 . . . . #docedge2019 #filmfestival #filmmaker #filmmakers #documentary #documentaryfilm #documentaryfilmmaker #indiefilm #indiefilmmaker #filmfreeway #chuvadeseguidores #jonathanagassi #tomerheymann #israelifilm #film #storytelling #moviereview #filmcontest
JONATHAN AGASSI SAVED MY LIFE by Tomer Heymann was much better than I expected. It's more than just a story about a porn actor and porn industry. It's a beautiful and painful tale of deep and unique mother - son relationship, that shows that there are different ways to approach your kids life. It's a story about a grown up man, that still struggles with his boy's past, that keeps hunting him. Q&A with the director and Jonathan Agassi himself (via the life video chat) gave the audience a chance to realise, that there is a bright future for someone, that opened himself in front of the cameras. This time in a very different way👏😊 #tomerheymann #bfiflare #bfisouthbank #jonathanagassi #jonathanagassisavedmylife
Wow! What an experience. Thank you so much @tlvfest & @yair_hochner_tlv for having me, you guys were very accommodating. It was an honour to serve on the Jury. Israel is such a beautiful and vibrant country, it's one of those places you have to visit in your lifetime. Highlights: • Mini DV (2019) • Song Lang (2018) • Gay Chorus Deep South (2019) • Jonathan Agassi Saved My Life (2018) . . . . #tlvfest #gay #lesbian #transgender #bisexual #shortfilm #love #loveislove #feature #lgbtq #sexuality #gender #film #nonbinary #outcomelgbt #minidv #songlang #queer #telaviv #pridemonth #gaychorusdeepsouth #lgbt #israel #vietnam #usa